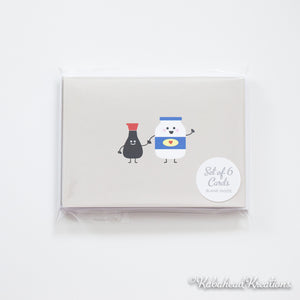 Shoyu Loves Mayo Note Cards
If you've ever tried shoyu (soy sauce) mixed with mayonnaise you know why this design is lovable on so many levels. A "dip" for vegetables made popular in Asian American circles, shoyu and mayonnaise make the perfect couple.
**********
Set of 6; Blank Inside. 
Envelopes included 
6 character stickers included too!
Size: 4BAR (3 5/8" x 5 1/8") - big enough to be sent through the mail