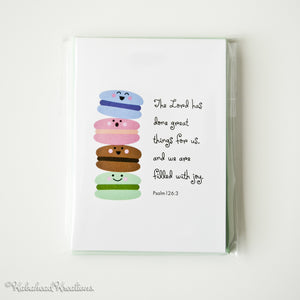 Macarons Filled With Joy Note Cards
These cute notecards feature a stack of the popular macaron (macaroon) dessert with a matching Bible verse from Psalm 126:3:
"The LORD has done great things for us, and we are filled with joy."
****** 
Set of 6; Blank Inside. 
Envelopes included 
6 character stickers included too!
Size: 4BAR (3 5/8" x 5 1/8") - big enough to be sent through the mail